Discover more from TeenDramaWhore
Welcome to the reincarnation of TeenDramaWhore.com, the go-to destination for fans of teen soap operas.
Being a Fan, Not a Sycophant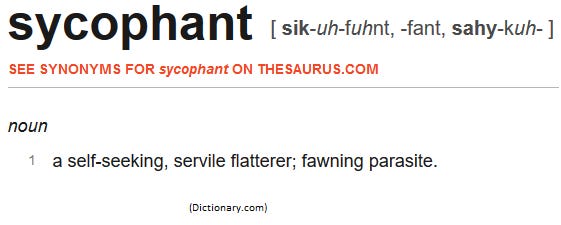 If I consider myself the biggest "Beverly Hills, 90210" fan, do I have to like everything associated with the show and its cast?
If I love "One Tree Hill," do I have to want it to continue forever and ever?
This, in a nutshell, is what I see as the difference between a fan and sycophant. This is the difference between a critical thinker and a mindless follower.
Synonyms include "bootlicker," "brownnoser," "suck-up," "fawner," "adulator," "groupie," and "yes man."
All genres of entertainment, not just the teen dramas, have both fans and sycophants. But the point of this post is to make clear that being a fan doesn't mean you have to be a sycophant (or any of the synonyms above).
Fans are allowed to be critical of the shows they love. They don't have to like or support everything cast members do.
Here is an example from circa 2009-2012: I did not want "One Tree Hill" to continue after season 6. The season 6 finale was a perfect ending to the series (and was designed as such, as producers did not know if the show would be renewed). Season 7 saw the departure of two main characters, the arrival of three new ones, and bizarre storyline and character choices. In my opinion, the quality just wasn't there anymore and the continuation felt like producers' attempts to milk the show and the cast rather than go out "on top." Shows can succeed even after beloved actors leave and new actors join (see: "Beverly Hills, 90210"). But it no longer felt like "One Tree Hill" to me. But many fans, if not all, wanted more… more… more. Anything was better than nothing, some argued. Was it really, though? There are always going to be more stories to tell — but that doesn't mean they are stories WORTH telling. And not wanting one of your favorite shows to continue doesn't make you a lesser fan.
Here is a more recent example: Tori Spelling (Donna, Beverly Hills, 90210) competed earlier this year on "Celebrity Show-Off." She even won. Fans posted on Twitter and on Instagram and on Facebook groups to vote for her. The argument seemed to be: You love Donna, you love Tori, of course you'll love this, so spread the word and vote, vote, vote! Of course, there's nothing objectionable about that. Fans naturally want to support the stars of their favorite shows. But in actuality, they don't have to like everything these stars do. I loved Tori's comedy as Donna on "Beverly Hills, 90210." I've hated Tori's comedy in virtually everything else, including on both "Mystery Girls" and "BH90210." "Celebrity Show-Off" was more of that kind of comedy. I was extremely turned off by it and found requests for votes for a reality competition designed to extend one's proverbial "15 minutes of fame" to be obnoxious. And not supporting an actress from one of your favorite shows doesn't make you a lesser fan.
The fans who raise my eyebrows are the ones who, seemingly in a pledge of undying love and devotion, unequivocally and uncritically love all things related to a show and its cast. The fans who raise my eyebrows are the ones who want more, more, more regardless of how legacies will be affected. The fans who raise my eyebrows are the ones who waste hard-earned money on memorabilia, sign petitions they don't actually believe in, and join multilevel marketing schemes just because they're connected to their faves.
To be clear, doing any of the above does NOT make you a lesser fan, either. It just makes you the kind of fan I worry about. There need not be unconditional loyalty between a fan and a show, a fan and the cast, a fan and the executive producer, and so on.
I've always found this question interesting: Should fans be grateful to actors for blessing us with our favorite shows or should actors be grateful for our viewership that keeps them employed?
Arguably, a little bit of both. But beware the overall power imbalance. Beware of feeding egos — including your own. Beware of idolizing. Beware of only doing things because you hope a certain actor will notice.
And do not judge those for whom fandom has its limits.
The approach I prefer is that of television critics: They have biases both conscious and unconscious, sure. But they aim to stay objective, even when covering something they really love or really loathe. Absolutely loving "The West Wing" doesn't mean they will automatically rave about anything Aaron Sorkin ever does. Absolutely loving "The Mandalorian" doesn't mean they can't offer constructive criticism about the new season. Conversely, generally disliking something overall doesn't mean they can't recognize bright spots.
Remember what I said above about not wanting "One Tree Hill" to continue past season 6? Well, if it didn't, we never would've gotten episode 7.07, "I and Love and You." This is an episode featuring a self-contained storyline led by one of those aforementioned new actors with a love interest we had never before met… and it's one of my favorite episodes of the entire series because of that storyline. Go figure, right?
In other words, there should be no absolutes.
It is my hope going forward that we can all be more discerning fans, that we can voice constructive criticism without having our fandom questioned, that we can be grateful for the gifts our favorite stars have given us without embarrassing ourselves by begging them for a retweet.
As a final note, using the shows mentioned earlier in this piece, here are examples of what I mean and what I don't mean about expressing such "controversial" opinions.
Good Example: I was really surprised by Julian's characterization on "One Tree Hill" during seasons 7, 8, and 9. During seasons 5 and 6, he was presented as this hip, cool guy from Los Angeles with a hint of an ego. In the later seasons, he turned goofy in a way that I found emasculating and even embarrassing. His personality completely changed in inexplicable ways (as opposed to being the result of logical growth or specific events). As a result, I didn't like his character and a lot of his storylines anymore.
Bad Example: Kelly Taylor on "Beverly Hills, 90210" is such a slut!
See the difference?
You can be a fan and still be critical. You can be a fan without bowing in worship. You can be a fan without trying to curry favor. You can be a fan without collecting merchandise. You can be a fan without clamoring for stars' attention.
And I argue, we'd all be a lot better off for it.