First Impression: Gossip Girl
I was a junior in college when "Gossip Girl" premiered and my viewing was very sporadic to start. I was skeptical, to say the least.
Sure, all teen dramas operate from a heightened reality, but this show was really taking things to a new level. Even TV critics I spoke with for an article I wrote — titled "Texting Josh: Schwartz: Not Everyone Loves 'Gossip'" — had their doubts. Looking back, however, it's clear I vastly underestimated the show, something I plan to address in-depth next month.
At the time, though, it was a slow process of getting sucked in, even if I was attracted to the cross-town romance of Serena and Dan pretty much right away. But wait… I was also attracted to the forbidden romance of Serena and Nate at the same time! What was a girl to do? Keep watching, of course.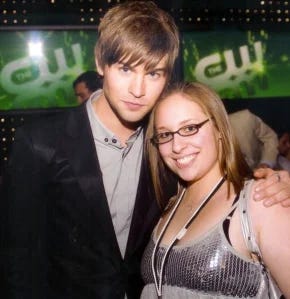 It was a thrill, then, in the spring of 2008 when I interviewed some of the cast at The CW's upfront as part of my internship with People (see picture with Chace Crawford (Nate) above). I recall getting a small scoop out of Penn Badgley (Dan) about his real-life relationship with Blake Lively (Serena) and rushing with the reporter I was teamed up with to quickly listen back to his remarks, transcribe them, and send the quotes to the magazine's office.
I started TeenDramaWhore.com during the show's second season, which only strengthened my connection to it. I started reporting on the "Gossip Girl" cast, sharing spoilers, and eventually live-blogging the new episodes each week. And even after TDW went on hiatus, I continued to offer commentary by tweeting my reactions to each episode through the series finale.
But there is no denying my interest in "Gossip Girl" has never been as strong as my interest in "Beverly Hills, 90210," "Dawson's Creek," "The O.C.," and "One Tree Hill."
There's also no denying this, though: "Gossip Girl" is a huge part of the teen drama genre, even if I didn't see that at first.
GOSSIP GIRL (September 19, 2007 - December 17, 2012)
Favorite Seasons: None in particular
Favorite Episodes: I have favorite moments… but I don't associate them with entire episodes.
Favorite Characters: Serena… kinda. Dan… kinda. Nate… kinda.
Favorite Couples: Serena and Dan, Serena and Nate